Event Information
| | | |
| --- | --- | --- |
| Location | : | Prambanan |
| Time | : | Tuesday, 03 January 2017 - Saturday, 30 December 2017 |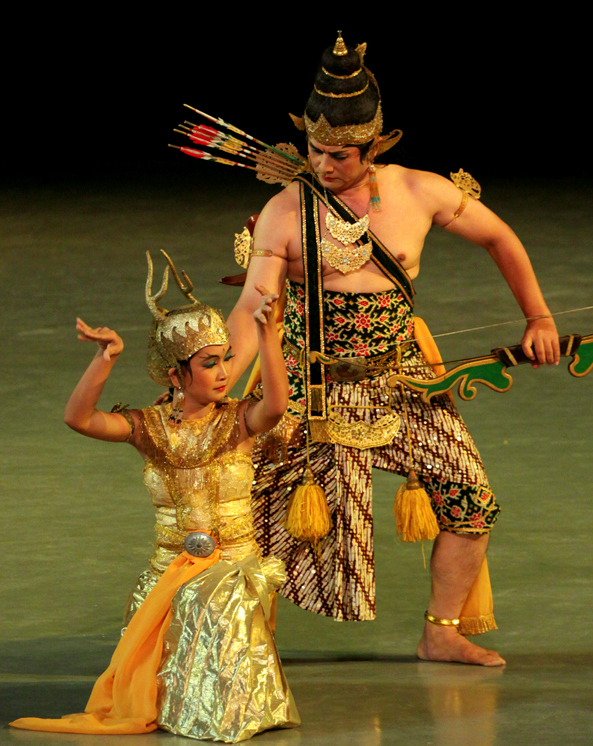 Based on an epic Hindu poem, the story of model king Rama was adapted to become an important local dance, encompassing the Javanese style, culture and music. Whilst the story originated in India, the Javanese version is a representative of the local art and culture. In the evenings, this ballet comes to life, enacted by over 200 professional dancers and musicians on an open air stage that takes advantage of the Prambanan Temples as a backdrop. Prambanan's Siva Temple depicts the ballet as interpreted locally in a series of stone reliefs, making the link to the site hundreds of years strong.
The story revolves around the duties of relationships; the qualities of the ideal wife, king, brother and servant. Gods, mortals, giants, monkeys and beautiful women all come together to tell the colourful story of a courtship punctuated by a kidnapping and battles.
The outdoors performances run from 7.30pm to 9.30pm, and are weather dependent.
Upcoming indoor (Tri Murti) performance dates:
| | |
| --- | --- |
| JANUARY 2018 | 2, 4, 6, 9, 11, 13, 16, 18, 20, 23, 25, 27, 30 |
| FEBRUARY 2018 | 1, 3, 6, 8, 10, 13, 15, 17, 20, 22, 24, 27 |
| MARCH 2018 | 1, 3, 6, 8, 10, 13, 15, 17, 20, 22, 24, 27, 29, 31 |
| APRIL 2018 | 3, 5, 7, 10, 12, 14, 17, 19, 21, 24, 26, 28 |
| NOVEMBER 2018 | 1, 3, 6, 8, 10, 13, 15, 17, 20, 22, 24, 27, 29 |
| DECEMBER 2018 | 1, 4, 6, 8, 11, 13, 15, 18, 20, 22, 25, 27, 29 |
Upcoming open theatre performance dates:
MAY 2018
1, 3, 5, 8, 10, 12, 15, 17, 19, 22, 24, [25], [26], [27], [28], 29, 31
JUNE 2018
2, 5, 7, 9, 12, 14, {16}, {17}, {18}, {19}, {20}, {21}, [22], [23], [24], [25], 26, 28, 30
JULY 2018
3, 5, 7, 10, 12, 14, 17, 19, 21, 24, 26, [27], [28], [29], [30], 31
AUGUST 2018
1, 2, 4, 7, 8, 9, 11, 14, 15, 16, 18, 21, 22, 23, [24], [25], [26], [27], 28, 29, 30
SEPTEMBER 2018
1, 4, 6, 8, 11, 13, 15, 18, 20, [21], [22], [23], [24], 25, 27, 29
OCTOBER 2018
2, 4, 6, 9, 11, 13, 16, 18, 20, 23, 25, [26], [27], [28], [29], 30
NB
[….] EPISODIC

Episode 1 : The Lost Of Dewi Sita
Episode 2 : Hanoman The Messenger
Episode 3 : The Death of Kumbakarna
Episode 4 : The Holy Fire of Dewi Sita

{…..} SPECIAL PERFORMANCE EID AL-Fitr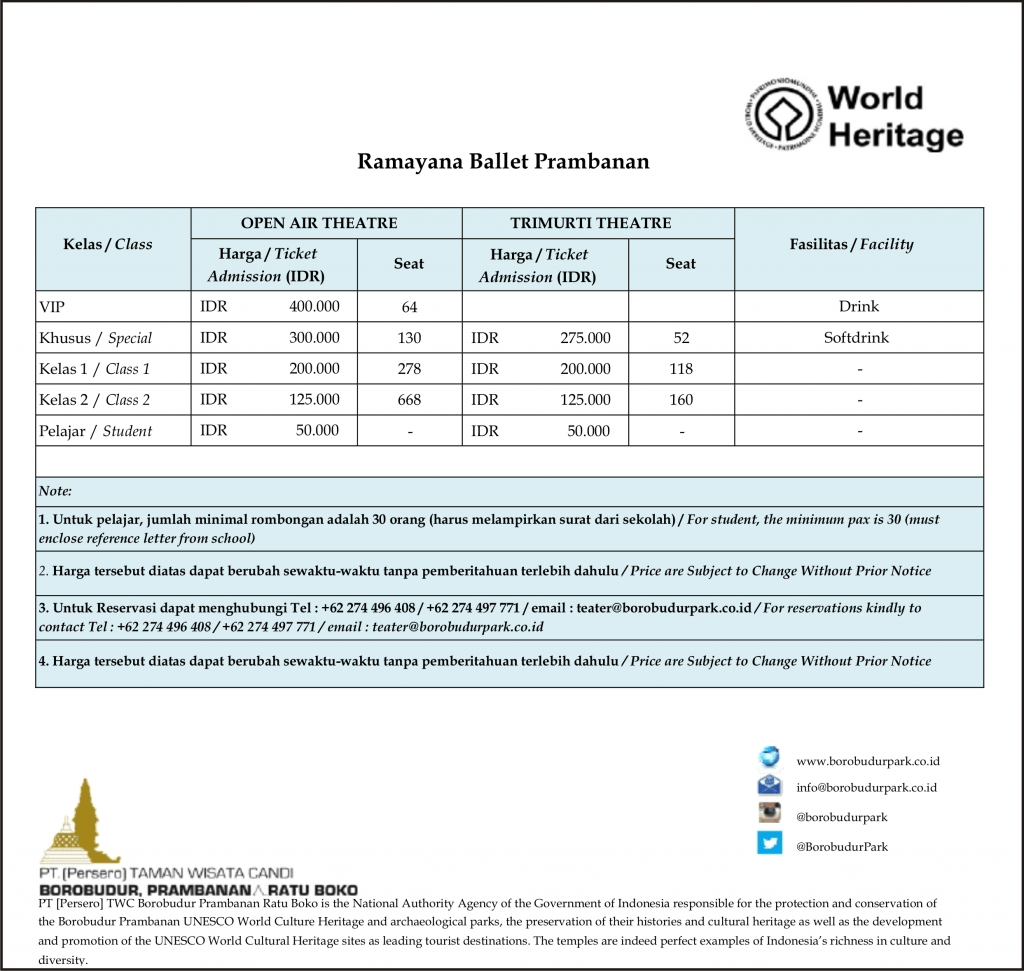 Should you require any further information, dates or details, please contact our Visitor Assistance Centre
Open Air Theater Layout

Tri Murti Theater Layout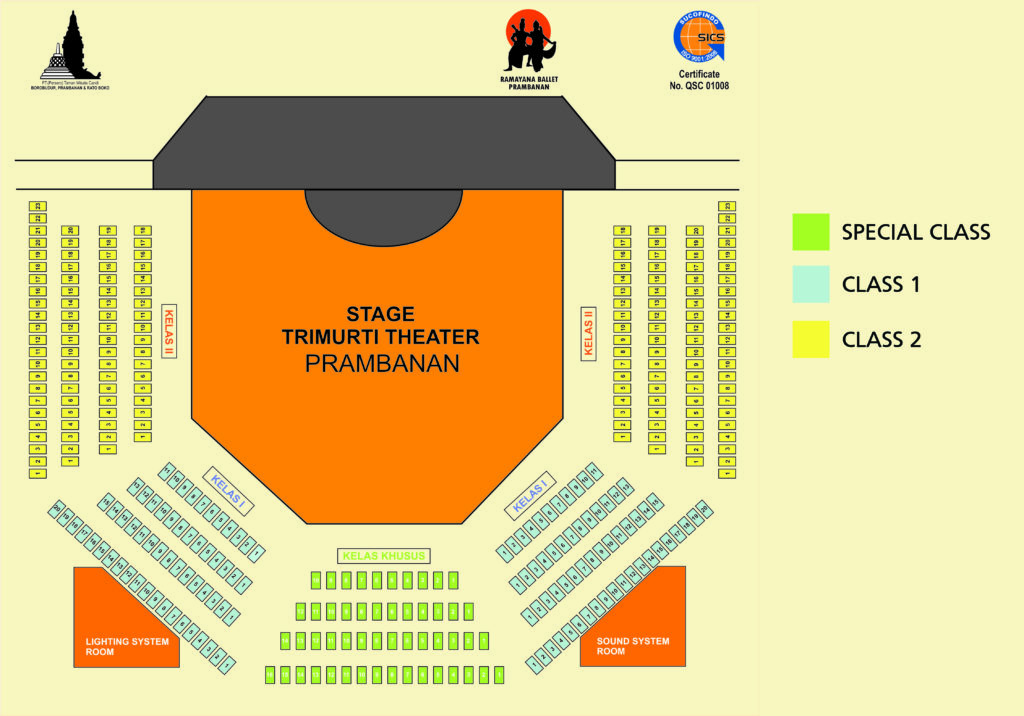 Teater dan Pentas
Address : Jl Jogja-Solo Km 16 Yogyakarta
Phone : +62 274 496 408 / +62 274 497 771
Hotline Phone : +62 858 0352 5354
Fax : +62 274 496 408
Email : teater@borobudurpark.co.id
Contact Person
Suyadi : +62 81 393 899 622
Denny : +62 819 0414 1928
Kardiyo : +62 858 6030 2729