Event Information
| | | |
| --- | --- | --- |
| Location | : | Borobudur Temple |
| Time | : | Saturday, 31 August 2019 - Saturday, 31 August 2019 |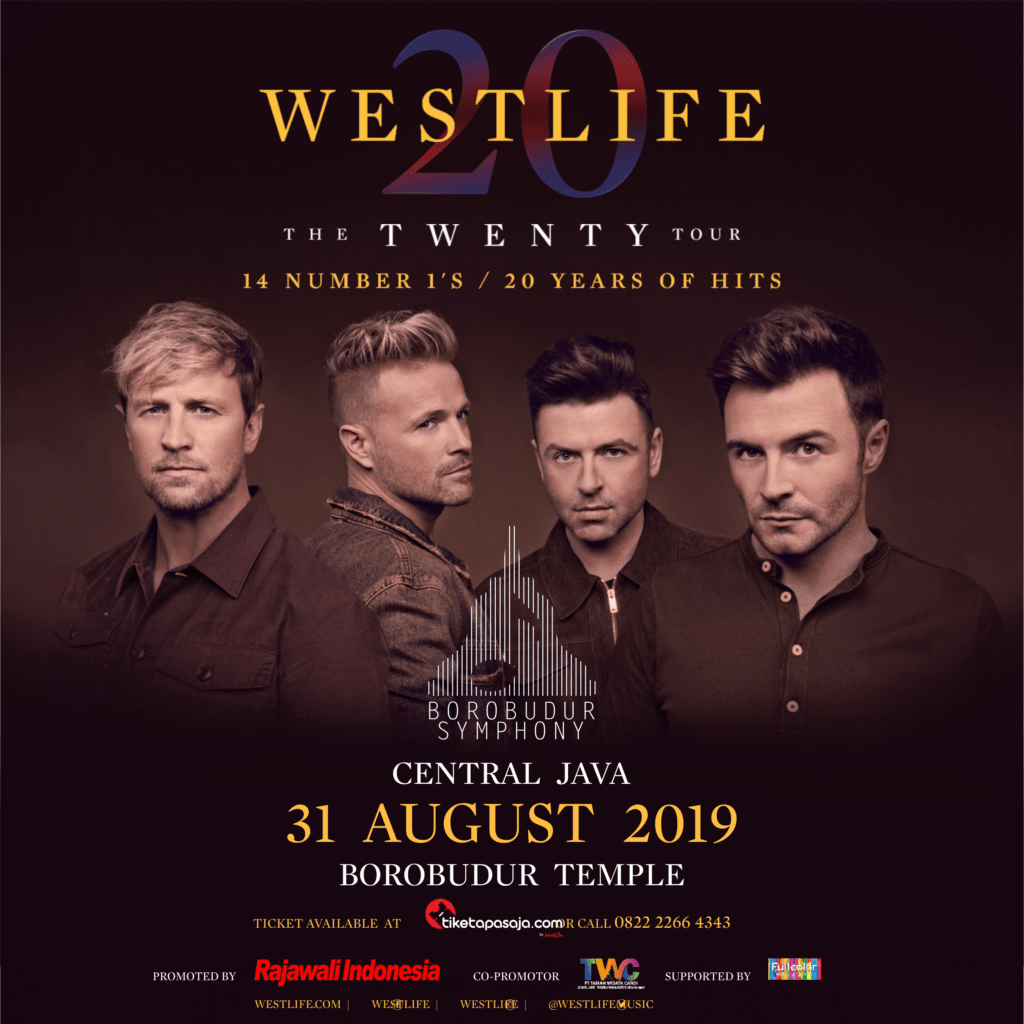 Westlife The Twenty Tour of Borobudur Symphony
The splendor of Borobudur Temple and the Westlife Reunion Concert
At the end of the 90s era, the world music was surprised by the presence of an Irish Boy Band called Westlife. In 1999, Shane Filan, Brian McFadden, Kian Egan, Nicky Byrne, and Mark Feehily succeeded in catapulting the name Westlife through a series of song titles summarized in the album titled "Westlife". Call it like "Swear it Again", "If I Let You Go", "Flying Without Wings", "Fool Again", "No No" and others are some of the songs contained in the inaugural album of the boy band which was established on July 3, 1998, ago.
Westlife managed to release dozens of albums that were refreshed to the world music. Of the dozens of albums that they released, at least there were dozens of singles that were named number one in Ireland and in the United Kingdom during the period from 1999 to 2005. And awards such as "Record of the Year".
Continue to consistently release works and hold concerts in various countries around the world, it seems that does not make Westlife survive in the midst of fierce competition in the music industry. In 2012, Shane, Brian, Kian, Nicky, and Mark decided to disband that had raised their names together. And that certainly makes many Westlife fans feel disappointed.
Nearly seven years there was no news after the decision to disperse, surprisingly in October 2018 four Westlife personnel namely Shane, Kian, Nicky, and Mark announced that they would hold reunion tour concerts in several countries. And one of them is in Indonesia, where the boy band chanting the song "Uptown Girl" is ready to hold a concert titled "Westlife The Twenty Live Tour in Borobudur" on 31 August 2019 to come at the Borobudur Temple, Central Java, Indonesia.
Borobudur Temple as one of the world's historic masterpieces in Indonesia matches to collaborate with music masterpieces owned by Westlife. "Westlife The Twenty Live Tour in Borobudur" will provide a new experience in watching music performances from world musicians.