Video Mapping in Ramayana Prambanan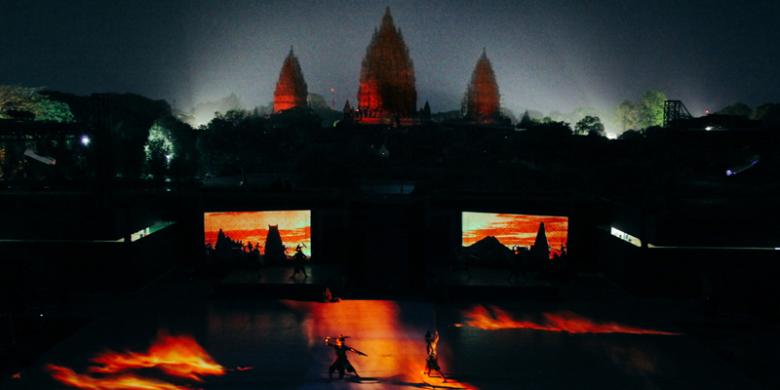 The Prambanan Temple open theater floor suddenly cracks, sounds of rumbling rocks are heard, people are running for their lifes. That was one of the scene presented in Ramayana Prambanan Ballet part of the dance routine lead by Yogyakarta famous performance artist Didik Nini Thowok.
For the first time ever, The Ramayana Prambanan Ballet is performed with aids from video mapping technology from Sembilan Matahari studio Bandung. Using 16 projectors with high lumency (10.000 – 25.000 lumens), Sembilan Matahari projects animated video to the stage floor, background, and three main temples of the Prambanan.
The touch of technology with traditional Javanese music and dance performance is hoped to bring more youngsters to watch Indonesia cultural heritage.

The addition of visual effects on stage makes the Ramayana lore more understandable among youngsters. The animated floor and background images add more dynamic to the show. The transition of Roro Jonggrang into a statue is depicted well with visual aids from video mapping technology. Images of fields, earthquakes, and falling debris adds more immersion to the dancers and spectators.