More than 2000 Vespa Enliven Asia Vespa Days 2017 in Prambanan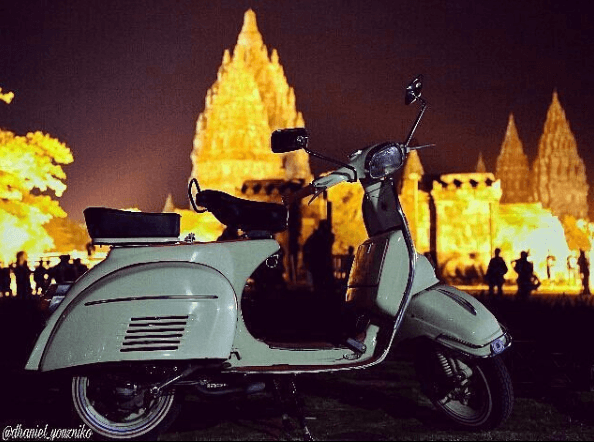 Yogyakarta City hosted the event Vespa lovers entitled Asia Vespa Days 2017 (September 15 – 16). More than 2000 Vespa from various regions of Indonesia and abroad such as Malaysia, China, Vietnam, Philippines, Singapore, America, and Italy comes to this first-ever event.
Frannata Suryanto Chairman of Asia Vespa Days 2017 Committee told reporters in a press conference at City Hall of Yogyakarta Thursday (14/09/2017) revealed that the two-day event in Yogyakarta was first held in Asia. More than 300 Vespa communities have confirmed attendance to Yogyakarta to enliven the agenda centered in the courtyard of this Prambanan Temple.
"If we estimate the total could be more than 2000 because there are 500 communities that have declared themselves participate. Earlier participants have started to drive since some time ago, which from Italy has even since July departed. While from Indonesia has also arrived, there is a stay at the hotel but there is also a camping in the courtyard of Prambanan, "he said.
Asia Vespa Days 2017 itself brings the theme of Brotherhood, Culture, and Lifestyle where Vespa has been regarded as a culture for its way of life. "We also want to take advantage of the event at Prambanan as an early milestone for Vespa lovers in Asia and will be discussed later on whether it will be a routine event, as well as where," he continued.
One other thing is also special according to Fran who also had experienced to drive up to Italy that is the Vespa batik made by batik artists using canting. "The process of making up to two years and a full Vespa set using canting so look detailed and reflect the culture of Yogyakarta," he said again.
At Prambanan, the participants will follow the gathering agenda as well as the various art performances from the participants and the invitees. While on 16 September, 261 Vespa will follow the convoy in the city of Yogyakarta as a form to participate enliven the anniversary of Yogyakarta City to-261.
Photo by @dhaniel_youzniko (Instagram)
Source: http://www.krjogja.com/web/news/read/43823/2000_Vespa_Bakal_Meriahkan_Asia_Vespa_Days_2017_di_Prambanan