TWC Customer Award 2015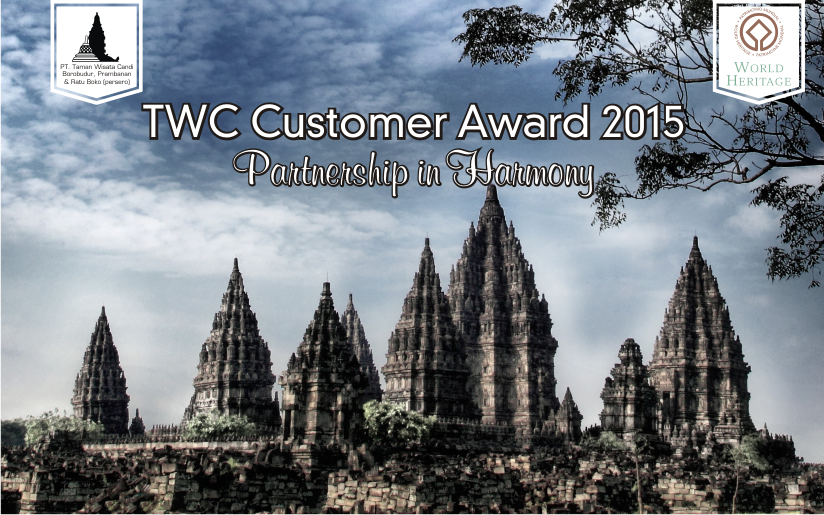 Partnership is always a good way to increase the number of tourist. Therefore, PT. TWC Borobudur, Prambanan & Ratu Boko make some awarding event that is called "TWC Customer Award 2015". In 2015 PT TWC manage to bring about 3.558.690 domestic and foreign tourist that is targeted 3.616.900 tourist, it still a good value to PT TWC compared with the total tourist that has visited in the last year. Theme of the awarding event is "Partnership in Harmony" that reflect the warmth of togetherness.
Awarding event is held on Kinara-Kinara Stage Rama Shinta Garden Resto TWC Prambanan, Friday night (22/1). Appreciation for the winner is a gift and a pin, hope that its can be useful for the recipient. The gift was given by Sahala Parlindungan Siahaan (Director of Marketing and Cooperation), Retno Hardiasiwi (Director of Operation), Purwanto (Director of Finance and Administration), and Emilia Eny Utari (Head Officer Marketing Department).
Siahaan explain the needs of increasing the quality of the cooperation between PT TWC and partners because of the way for entering Era MEA in 2016 so that the number of tourist can be controlled.
Meanwhile, The Head Officer Marketing Departmen Emilia Eny Utari said that, tourist that has been visited in 2015 to Prambanan Temple is 1.923.082, from the target 1.627.400 people. Ratu Boko Temple is 5.731.676, from the target 5.474.200 tourists.
The awards including Best Partnership in Unit Business Prambanan Area Employing are achieved by Indonesian Bird Concervationist Association, SMPN 3 Gampang Sleman Yogyakarta, SD Muhammadiyah Demangan Yogyakarta. The category of The Best Partnership unit Business Theater and Pentas is achieved by Krisna Tour and Travel that has contribute Rp 411.775.000. Transportation Unit are achieved by Galih Ayu Tour & Travel, Mahendra Tour, and Go Vacation Indonesia Tour and Travel.